RADON CONTROL Canada's Radon Store

HIGH RADON? CALL 1-888-749-0770

Radon Reduction Systems T-Fitting
Description:
The innovative, exclusive new ADC-T is specifically designed for green building during new construction. The ADC-T provides the critical first step for building in a passive radon and moisture reduction system rough-in (RRNC) or the installation of a full, activated radon/ADC system.
The ADC-T replaces an ordinary PVC tee as the base of the system, providing:
- More stability (no more leaning radon pipes)
- Better air, soil gas and vapor flow
- Protection against accidental blockage by building debris
The ADC-T is as easy to install as an ordinary tee, but its unique design takes it far beyond the ordinary. While accepting regular 4" schedule 40 into its socket, the ADC-T:
- Can easily saddle over any drainage piping.
- Works with aggregate or geotextile matting.
- Features side knockouts for 4-way air flow.

Each ADC-T comes with a kit that includes:
ADC-T - To prepare for installation of an active or
passive radon and moisture control system
4 Stakes - To stabilize the T in preparation for aggregate fill and slab pour
Vent Pipe Cap - To prevent debris entry and, because it is clearly labeled, avoid the possibility of mistaking the vent pipe stub for a utility pipe "rough in"
Instruction Guide - Which provides installation and use instructions for ADC-T as well as full ADC/RRNC system installation instructions (to comply with ASTM E1465, IRC Appendix F, and state standards where applicable)
Set of 4 Labels - To clearly mark ADC/Radon/RRNC vent pipes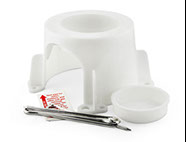 Radon Control
1780 West Broadway
PO Box 14047 Delamont Po
VANCOUVER, B.C., V6J 0B9

All rights reserved. 2012 - 2013 Radon Control, Vancouver, BC, CANADA